Make your family meals extra special with Morcon! This Filipino-style roulade stuffed with eggs, cheese, pickles, and sausage is juicy and tasty with tangy and savory tomato gravy. Perfect for family dinners or special occasions.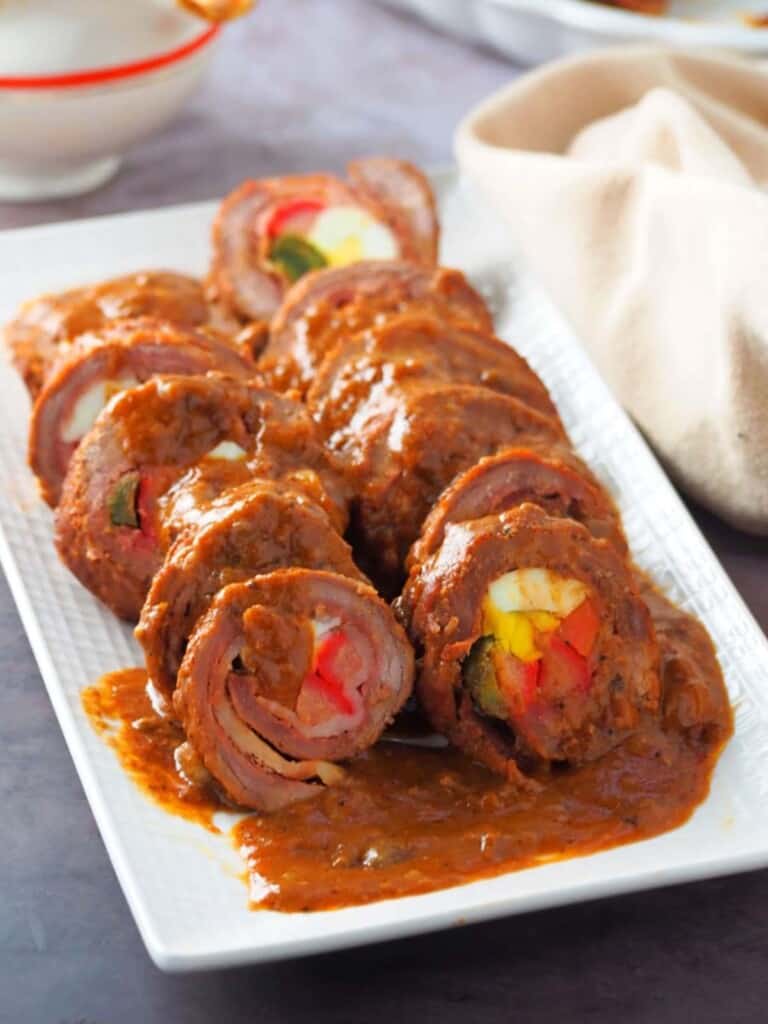 Morcon is a popular Filipino dish commonly served on holidays and special occasions. Like its European counterpart, this Filipino-style roulade consists of a thinly sliced beef rolled around choice fillings such as cheese, eggs, carrots, pickles,  bacon, and sausages.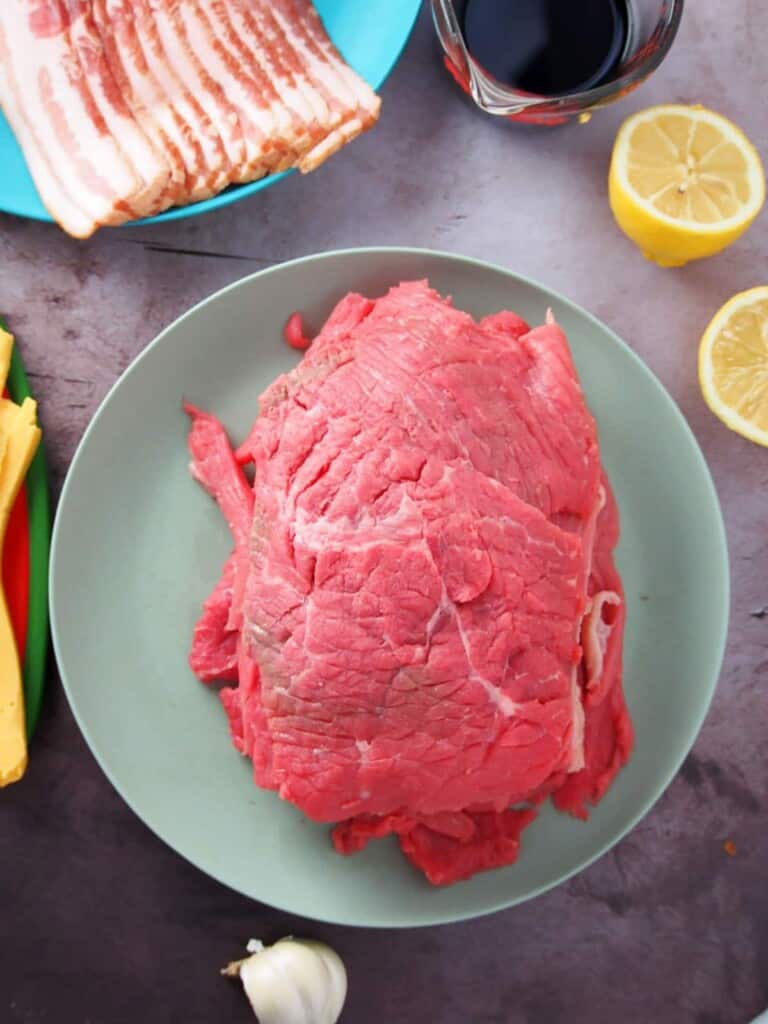 The prepared beef roll is first pan-seared on high heat to brown and seal flavors, and then cooked low and slow to perfect tenderness. The braising liquid, which is usually a combination of stock and tomato sauce, is then finished off with other flavorings to serve as sauce or gravy.
Morcon is mostly reserved for holidays and special occasions, but there's no reason not to enjoy it more regularly. Albeit time consuming, all it takes are three simple steps and kitchen twine to have this festive meat roll ready for everyday family dinners.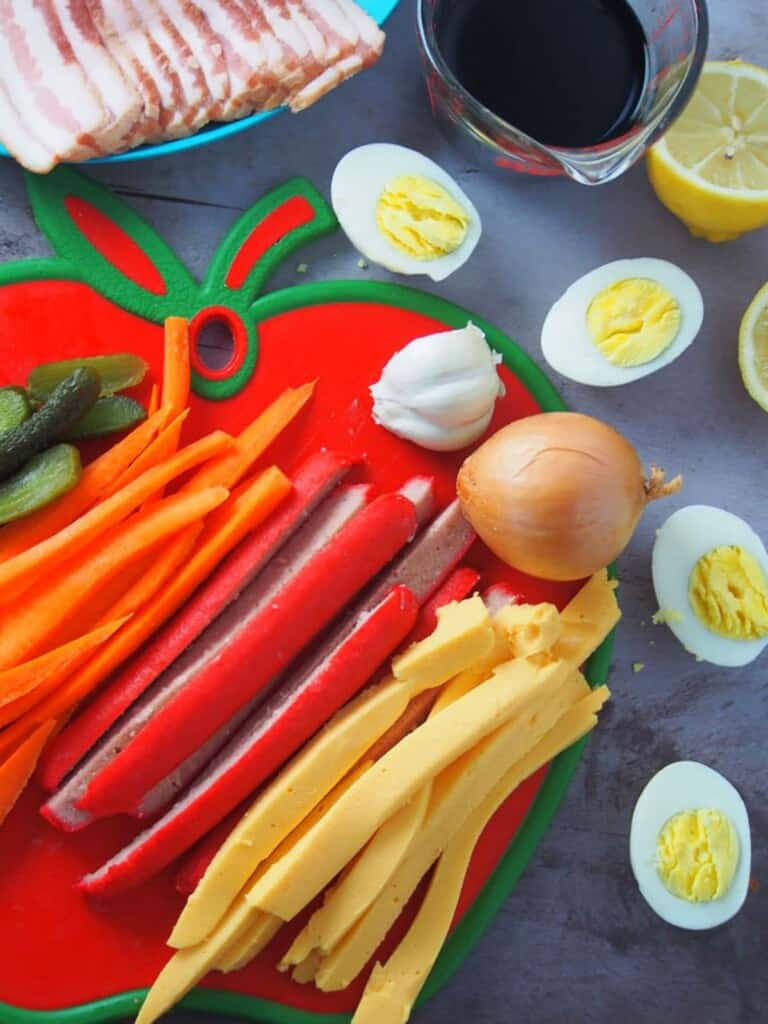 Ingredient notes
Beef– use cheap, tough cuts of meat such as bottom round or chuck roast that are perfect for braising. If buying from the wet market or a Filipino grocery store, ask the butcher to cut thinly a la morcon.
Lemon juice– seasons and helps tenderize the meat; you can substitute calamansi juice
Soy sauce– adds umami flavor
Bacon– for a smoky layer of flavor; sliced ham is also a good option
Pickles, hot dogs, carrots, cheese, hard boiled eggs– adds texture, flavor, and a festive look
Tomato sauce and beef broth/water– braising liquid
Liver spread– thickens and enriches the sauce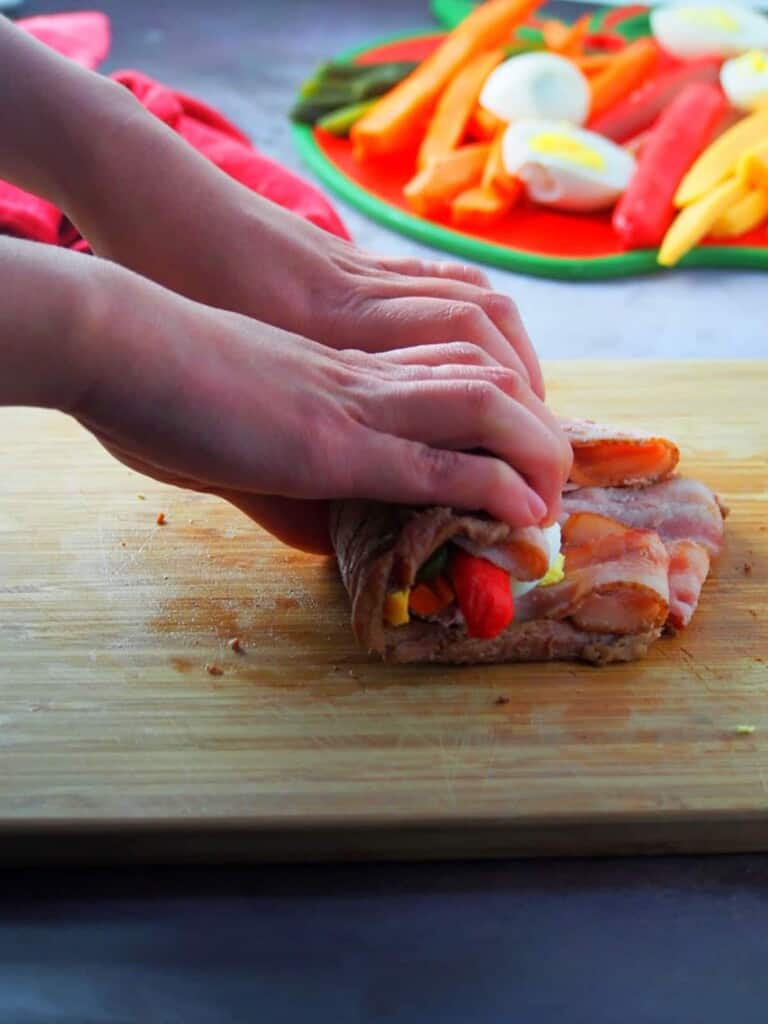 Making The Sauce
The beef roulade is delicious and impressive, but the thick, flavorful sauce is what takes it over the top. Sarsa pa lang, ulam na.
There's no need to clean the pan after browning the meat. Those browned bits bring incredible flavor.
The liver sauce thickens and adds a rich savory flavor. You can replace it with shredded quick melt cheese for extra creaminess.
For a hint of fruity tang and sweetness, you can replace part of the water with pineapple juice.